While marketing strategy isn't one-size-fits-all, it's an accepted truth that the best customers are the ones you already have. Loyal customers are crucial to growing your business, and a 5% increase in customer retention rates can lead to a profit increase of 25% or more.
Additionally, the benefits of having a loyal customer base go beyond profits. Loyal customers are more likely to become brand advocates and recommend your business to their friends and family. They follow and interact with your business on social media, boosting your brand's visibility, and they're more likely to try out your new products or services.
With online shopping establishing itself as the preferred shopping method in the Western hemisphere for the last couple of years, eCommerce businesses face more competition than ever before.
This means that online shops have to come up with promotional-driven customer journeys that create positive shopping experiences and convince customers to return and buy again. Here, we take a look at five ways to optimise your eCommerce customer retention.
Leverage limited-time offers to become a trustworthy retailer for customers
Scarcity marketing works because people have a built-in desire to want what they (or others) can't have. Household names like Apple or Louis Vuitton rely on scarcity marketing in their customer acquisition campaigns to increase the perceived value of their products.
However, scarcity marketing can also be a valuable instrument in your customer retention toolkit. If you can offer exclusive access to products that are rare or selling out, you can grow a loyal online following and increase your shoppers' customer lifetime value (CTV).
This tactic becomes more effective if you can offer access to exclusive products on a regular basis, as each promotion helps you develop a connection with your customers. Regular access to scarce products helps your customers feel valued, so they're more likely to follow your emails or social media presence.
How Uniqodo helped BT sell new generation consoles to loyal customers
Challenge: BT, an online retailer, wanted to sell next-gen consoles to existing BT Broadband users. Next-gen consoles were in extreme demand at the time, so the company partnered with Uniqodo to develop a solution and reward their loyal customers.
Solution: Uniqodo deployed a content gate on the PS5 product page. We then issued exclusive codes that BT customers could access in the Broadband account area and directed the customers to the BT Shop domain. Here, they could buy a PS5 console at the time of release.
Result: The promotional campaign generated a 50X increase in demand during the promotion and a 10X incremental conversion rate on the average purchase rate.
Curate your promotional targets towards closed groups
Targeting a specific demographic with your promotional campaigns will make people within that demographic feel valued. This helps drive customer engagement and encourages the target audience to develop a sense of loyalty to the brand that's helping them save money.
Once a brand is seen as a guaranteed place to secure a good deal for a certain demographic, it becomes stellar at retaining customers.
You can target specific demographics for these promotional campaigns through affiliate networks like Student Voucher Sites, Key Worker Voucher Sites, Employee Benefits, or other affinity partners.
How Uniqodo helped Moonpig drive engagement with a younger audience
Challenge: Moonpig, the top eCommerce shop for greeting cards, flowers and gifts in the UK, wanted to appeal to a younger audience. The company contacted Uniqodo to develop a solution so they could connect with students.
Solution: Uniqodo helped Moonpig reach its target audience and control the promotional campaign by creating an API integration with Student Beans in order to distribute single-use codes.
Result: The promotional campaign was restricted to the target audience and created an engaging journey for younger customers. The campaign had a conversion rate of 82%.
Provide personalised incentives for returning customers
There are over 100,000 eCommerce businesses in the UK, so your customers might not be motivated to return to your website unless you offer them some sort of incentive.
Fortunately, you can encourage repeat purchases with second purchase discounts. This tried-and-true method motivates your audience to stick around instead of switching to a competitor for their next purchase. Second purchase incentives are especially important in today's crowded eCommerce business environment.
Your customers are targeted by your competitors' "new member/first-time buyer" deals, so they might be tempted to make the switch in order to access discounted products. By offering second purchase discounts, you incentivise your customers to buy from you again and benefit from the quality they're used to at better prices.
How Uniqodo helped TUI incentivise customers to make repeat purchases
Challenge: TUI, one of the world's most popular tourism groups, wanted to drive engagement with their loyal customers with second purchase incentives. The company partnered with Uniqodo to develop a solution that would encourage repeat purchases.
Solution: Uniqodo targeted customers using datalayer variables and deployed a discount code tethered to the customer's email on the post-purchase confirmation page. This helped TUI to target the customer with email marketing campaigns and with personalised messages on their account pages.
Result: The campaign increased the conversion rate of underselling packages, and increased customer loyalty and customer lifetime value. The campaign registered a 62.22% uplift in redemptions.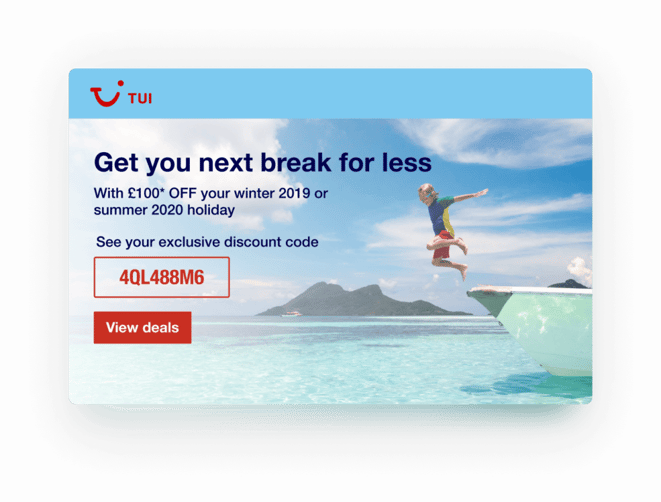 Consider exclusive and early-access offers as an alternative to discounts
Successful promotions don't have to include discounts. You can create effective retention strategies by offering your customer base exclusive or early access to certain products.
Offering early or exclusive access promotes loyalty because it makes your existing customers feel like VIPs. They benefit from a curated customer experience, so they're more likely to become brand ambassadors and recommend your business to others.
How Uniqodo helped Beauty Bay grant exclusive access to its existing customers
Challenge: Beauty Bay, one of the largest independent beauty retailers in Europe, wanted to offer exclusive access to its customers in anticipation of high demand for a new product. The company contacted Uniqodo to restrict access to existing customers.
Solution: Uniqodo protected the product page with a gate and issued exclusive access codes to Beauty Bay's customers through email campaigns. The emails directed the customers to the locked page and the codes allowed them to purchase the new product.
Result: The promotional campaign increased pre-launch sign-ups and customer engagement. It generated 87,000 new signups before the launch and a 23% uplift in promotion-related sales.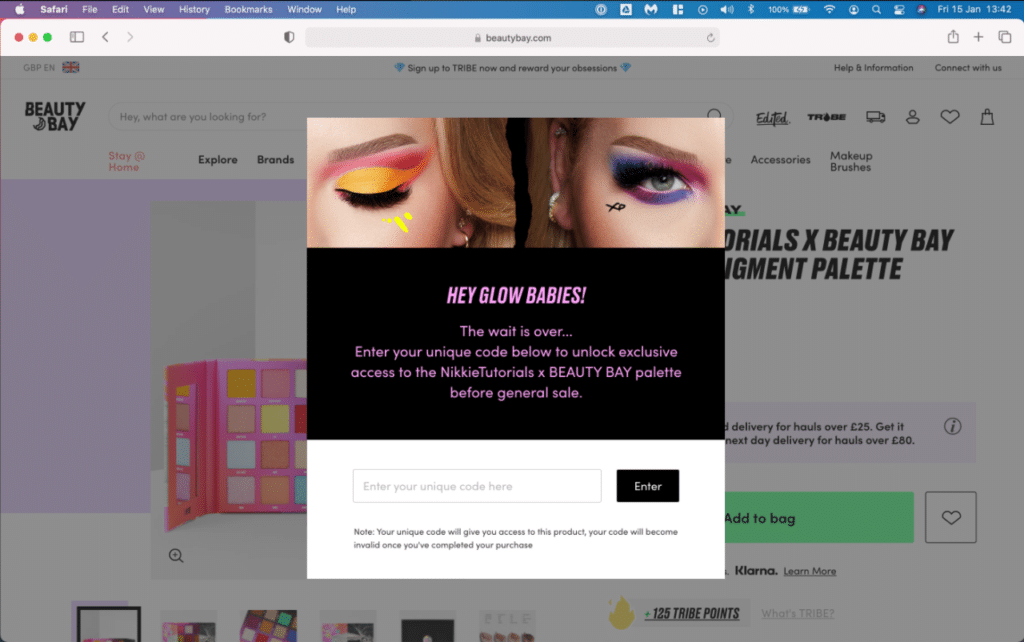 Appeal to a wider customer base with innovative options
While promotions help you build a loyal customer base, you can also increase retention with innovation and good customer service.
Offering the latest services available in the eCommerce industry, such as buy-now-pay-later strategies, can help differentiate you from your competitors and make your business more attractive to buyers.
Buy-now-pay-later offers are especially important for online businesses that sell high-end products. Prospective customers may be reluctant to spend a lot of money online, but allowing them to purchase products in monthly installments is a practical way of encouraging them to become loyal customers.
How Uniqodo helped BT expand its consumer base with exclusive offers
Challenge: Online retailer BT wanted to expand its customer base with exclusive promotions that rewarded key workers. The company contacted Uniqodo to develop a promotional campaign that would allow it to target Blue Light Card members with dedicated offers.
Solution: Uniqodo created an API integration with Blue Light cards to distribute single-use codes that would allow the users to access the offer.
Result: The promotional campaign helped BT reach and engage with the intended demographic. The campaign had a 31% engagement rate and a 6% conversion rate.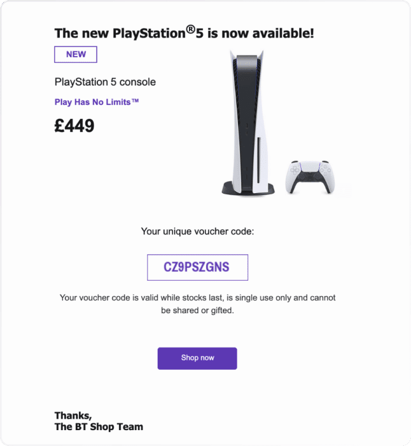 Optimise your eCommerce customer retention with personalised experiences
Optimising your second purchase campaigns around the customer journey enables you to build meaningful relationships with your existing customers. Promotional campaigns that use personalisation create positive shopping experiences for your customers and increase their chances of becoming repeat buyers.
Uniqodo is a Promotion Experience Platform. Simply put, it's a tool that helps you optimise your promotional campaigns with personalisation while also granting you complete control over your offers.
With Uniqodo, you can tailor the customer journey you create for each customer segment based on previous interactions and messaging channel. You can also run A/B tests to find out which strategy works best for each product and implement advanced promotional techniques.
If you want to level up your promotion abilities, book a discovery call with us. We'll show you how to create campaigns that turn casual buyers into loyal brand advocates.