Every business tries to entice customers using standard discounts and sales — there's no novelty left. Consumers have come to expect promotions, and often won't settle for less. So how can stand out above the competition and entice customers to purchase from you?
The answer: it's all in your promotional strategy. And that means planning and offering deals that your customers can't refuse.
In this article, we'll look at how a few brands are executing promotional strategies the right way — by using time-sensitive discounts, gamification techniques, and multi-stage validation tactics that pull customers in. Let's dive right in!
1. Gamification promotions
Many marketers occasionally struggle to connect with their target audiences through meaningful interactions. A creative fix to such a problem is gamified promotions, which basically involves offering fun activities and challenges that encourage user participation.
For example, you could create challenges, competitions, or questions that allow successful participants to get award codes or mystery coupons. For optimal participation, it's vital to customise and personalise your gamified promotions based on your customer data and preferences.
This kind of promotion can improve your customer engagement and retention rates, resulting in 17% more conversions. Up to 50% of organisations are using gamification in their promotions, and here are some great examples:
Nike
Nike has perfected the art of delivering optimal customer experience beyond its assorted product offerings. Through the Nike+ Run Club app, customers have access to tools that help them run and train better. Users can set custom weekly or monthly challenges and engage other community members to attain their goals. Such an experience allows them to interact with Nike's products and discounts continually.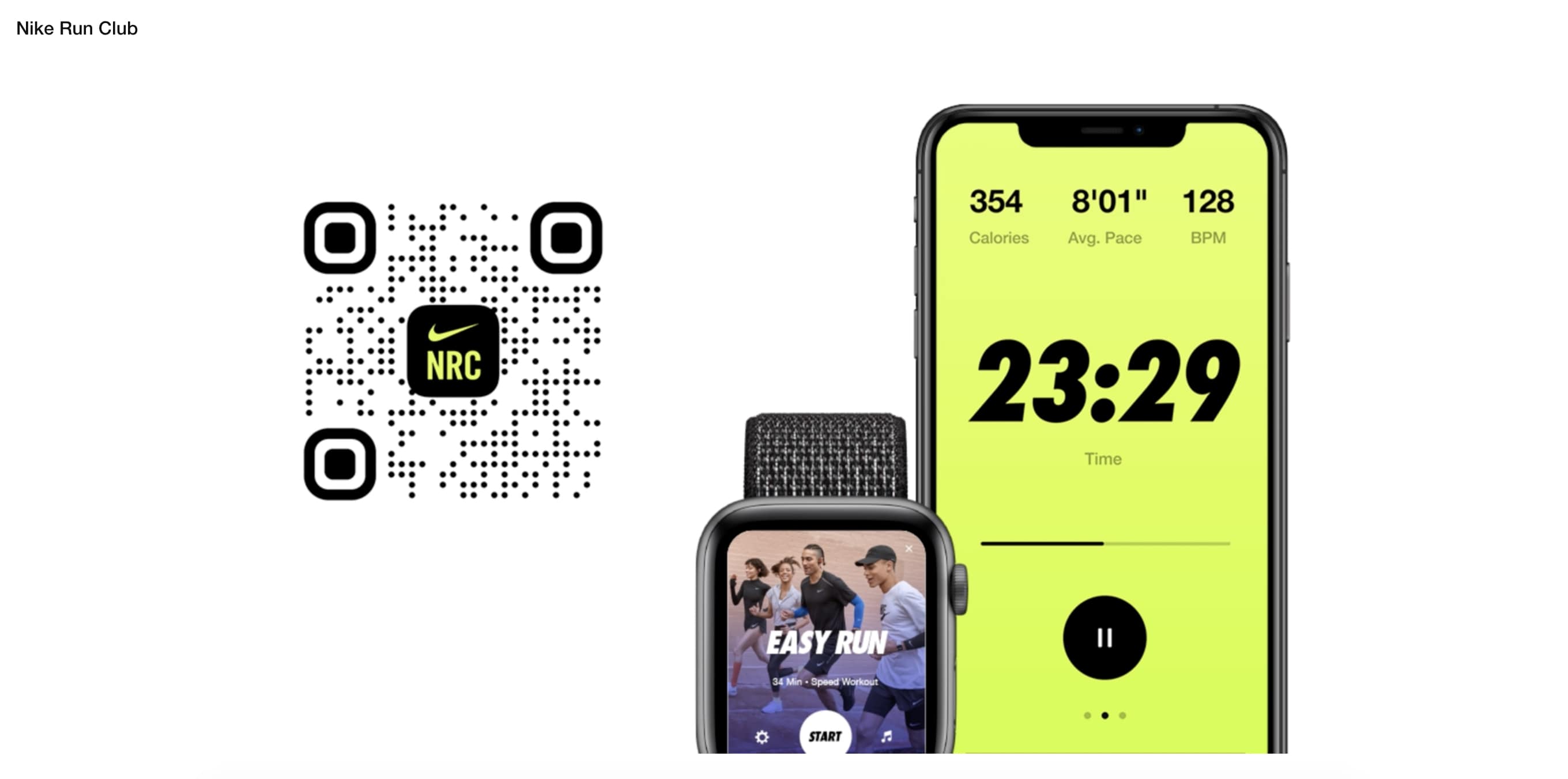 American Eagle
Your email promotions can be gamified, and that's precisely what American Eagle is doing by providing mystery offers via email. The brand leverages scarcity and exclusivity alongside compelling call-to-actions to evoke interest and encourage users to take action before the offer/deal ends. The offer is then revealed to customers once they click the provided link.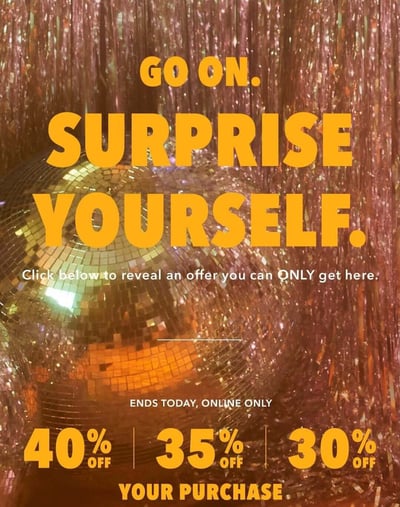 How to implement gamified promotions
In the above examples, you can see how brands leverage gamification to build customer interactions and interest around their products. It's become even easier to deploy such strategies when using a promotions engine, like Uniqodo's. This tool allows you to generate and validate unique promo codes that can be distributed in different formats, including for gamified promotions. A/B testing capabilities also allow for clear reporting, so you can see exactly how successful a campaign is.
2. Limited-time discounts
Limited-time offers are usually only viable for a specific time period, prompting customers to take action before the time elapses. They are a great way to convert visitors quickly — especially those who are afraid of missing out — but how do you get them in front of as many people as possible?
Such offers are best served through email and on-site promotions. Here are examples of brands that are doing it the right way:
Pura Vida Bracelets
Pura Vida Bracelets uses exit-intent pop-ups to serve limited-time offers. For instance, the company provides a 15% discount on your next order only when you accept the offer. Such an offer allows exiting customers or visitors to decide between taking up the offer and leaving the page. A countdown timer on the pop-up creates a sense of urgency, pushing customers to act fast.
Vinomofo
Vinomofo provided limited-time free shipping offers when customers successfully made a purchase. Bear in mind that up to 93% of customers are motivated to purchase when presented with free shipping offers.
Vinomofo brand uses personalised subject lines to boost email open rate. Upon opening the email, customers were served with a flash sale campaign with free shipping, which they could qualify for only if they make a purchase within the stipulated time.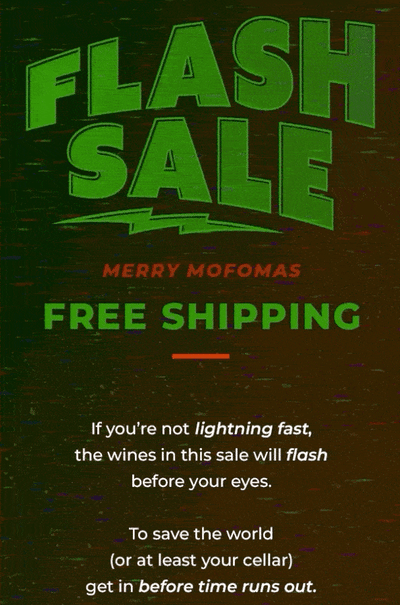 How to implement limited-time offers
Limited-time offers are effective because they create a sense of urgency, encouraging customers to act quickly. They capitalise on the fact that people never want to miss out on great deals.
Providing such offers is straightforward when using the right tool to generate unique limited-time promo codes. Customers need to use the codes before they expire. Otherwise, they'll be provided with an "offer is expired" message when they attempt using the code after the offer time passes.
If you're unsure about the capabilities you need to implement a strategy like this, check out our eBook — Do You Need a Promotions Engine?
3. Multi-stage validation
Multi-stage validation is a promotion technique that allows your customers to qualify for discounts or promo codes when purchasing a product bundle or a second related product. This online promotion strategy is effective in improving the sales of slow-moving products and increasing basket value.
It allows you to sell more while you have your visitors' attention. You have to show your customers that they can get a better deal, meaning more value, by buying certain products. This is a strategy that brands like Tarte are using to improve their sales numbers.
Tarte
Tarte uses the multi-stage validation strategy to encourage its customers to buy more products. In one email campaign, the company used the subject line "1 + 1 = Free shipping" to encourage shoppers to buy two complimentary beauty products. In this case, customers qualify for free shipping when they purchase two related products. Another example is their 'pick 5 for 50% off' offer, as shown below.

How to implement multi-stage validation offers
Different industries can take advantage of multi-stage validation like Tarte has done, but taking it a step further. Be sure to base your criteria on customer data and product availability. Here are a couple of examples:
A travel company could offer a special discount to those who book a hotel, flight and car rental all within a certain country and time period. This means you can make the most of the limited travel plans that people are still looking to make.

An online retailer looking to shift stock could offer a discount for another product that is only unlocked once a customer has purchased the distressed stock.
This kind of complicated criteria can be set using a promotions engine, and using a variety of promotions will help entice your customers. Not only that, the codes you generate can be validated, distributed and tracked while ensuring codes aren't leaked to those they aren't intended for. You can A/B test to see how successful your multi-stage validation offers are and adjust your campaigns accordingly to make sure you achieve the best results possible.
Achieve desired outcomes with the right tool
Using the right promotional strategies can help you attain your desired business outcomes. Your promotions should be targeted and personalised to appeal to your specific audience.
This is easily achievable through automating the processes of delivering offers, codes or vouchers to customers, which a promotion engine like Uniqodo can do. With about 81% of customers saying they usually strive to find offers or discounts when shopping, there's no better time to use promotional campaigns.
If you want to learn how a promotion tool can help you create more complex and effective promotional strategies, be sure to check out our "Do You Need a Promotions Engine?" eBook.