Increasing conversion rates is a critical element of online sales — after all, getting shoppers to your store is one thing, getting them to purchase is another. The average conversion rate in the retail sector is around 3%, so you need to do everything you can to improve yours.
When online stores have to compete with between 12 and 24 million other sites, you need to implement the right methods to push customers to convert. Here, we'll cover how you can use promotional techniques and frictionless experiences to drive CTR improvements and thrive in a digital-first economy.
1. Optimise your interface
You only have 0-8 seconds to grip customers that visit your site. Your site needs to be visually appealing and visually persuasive as well as easy to use. If customers struggle to find what they are looking for, they're likely to look somewhere else.
Implement compelling design and copy:
Don't underestimate the psychological power of visuals. Something as simple as changing your call-to-action button from green to red can increase your conversions by as much as 34%.
Make your landing page visually appealing in layout and colours.

Draw your potential customer's eyes to a specific part of the landing page — make this the call-to-action button that will take them one step closer to converting.Decide on the right tone of copy — Choose one that fits with both your brand's voice and your target audience's.

Consider using natural language — using natural language on customer forms has been shown to increase form conversion by 25-40%
Ensure your navigation is simple and easy:
Take advantage of the navigation bar — organising and categorising your content bar allows customers to easily find the type of product they're interested in without scrolling through countless other options.

Implement a robust search solution for customers wanting a specific item.

Optimise search engines — guarantee that your visitors are shown the most relevant products relating to their search term.
You want to look professional and show customers you're a high-quality brand, but you also need to improve the eCommerce customer experience, making it as frictionless and simplified as possible. The right messaging and user interface — along with a great product or service — will keep customers coming back.
2. Give customers what they expect
60% of customers abandon their purchase at checkout because the extra costs were too high. Another 23% do the same because they couldn't see the total order cost upfront. It's crucial to communicate early on in the shopping process before the checkout process. This is also true when applying discounts to product prices when you arrive through a promotional link — customers don't want to see their shopping cart at a higher price than they expected.
Being descriptive and ensuring products are exactly as they say they are on your site will increase the happiness of your customers. It will also earn you fewer refunds based around disappointed expectations.
Be as communicative as possible:
Write compelling and informative product descriptions — customers can't try or feel things online. So, you need to provide as much information as possible, as well as accurate and clear pictures.

Pro tip: Ensure your customers get exactly what they see online to continue fulfilment and keep return rates low.

Include an FAQ section on each product page — this gives customers a chance to easily get product information.

Consider showcasing customer reviews and comments — your customers will most likely trust reviews from other customers more than your copy thanks to social proof.

Implement a "Chat Now" button — shoppers can ask specific questions in a live chat with a member of your team. This feature could help you convert by increasing signup form fill-outs by 31%.
Clearly display what payment and the checkout page will be like before that point — showcase payment options, delivery prices and times. Where possible, offer free delivery as even a small shipping fee can deter customers.
Suggested reading: Want to learn how to improve customer experience in eCommerce? Read our blog '5 Ways to Improve Customer Experience in eCommerce'.
3. Entice using promotions
Successful promotions can take your ecommerce business to new heights. Promotional marketing has rapidly grown with digitisation. In reality, customers have come to expect discounts and promotions. More than that, though, they demand offers that are personal and specific to their previous interactions with the brand. Generic promotions are no longer enough — it's time to create irresistible ones.
Increase conversion rates with promotional marketing:
Personalised money off discounts — personalised promo codes can grab more attention than generic codes. Entice customers into converting by giving them codes tailored to their previous shopping history, giving them money off of products they've already looked at and are interested in.

Shopping cart abandonment emails — according to research by the Baymard Institute, the average online shopping cart abandonment rate is 69.57%. When customers abandon items in their shopping carts, this can be a great time to push conversions using a promo code sent through a direct email. Sending a code that's unique and only available for single use will also ensure codes don't get misused if leaked.

Pro tip: Single-use codes eliminate code misuse and secure purchases, ensuring no one else can benefit from the code sent to a customer. The right promo code strategy paired with the right software — like our own Promotions Engine — can ensure you're able to distribute, monitor and track unique, single-use codes.

Promo codes on your website — you can provide promo codes to customers via your website. For instance, in a title on your homepage — this can increase add to cart conversions by 148.3%. You could provide discount codes for free shipping (as mentioned, shipping fees can prevent people from converting), or provide a percentage amount off.
Pro example: Topshop's homepage in June 2020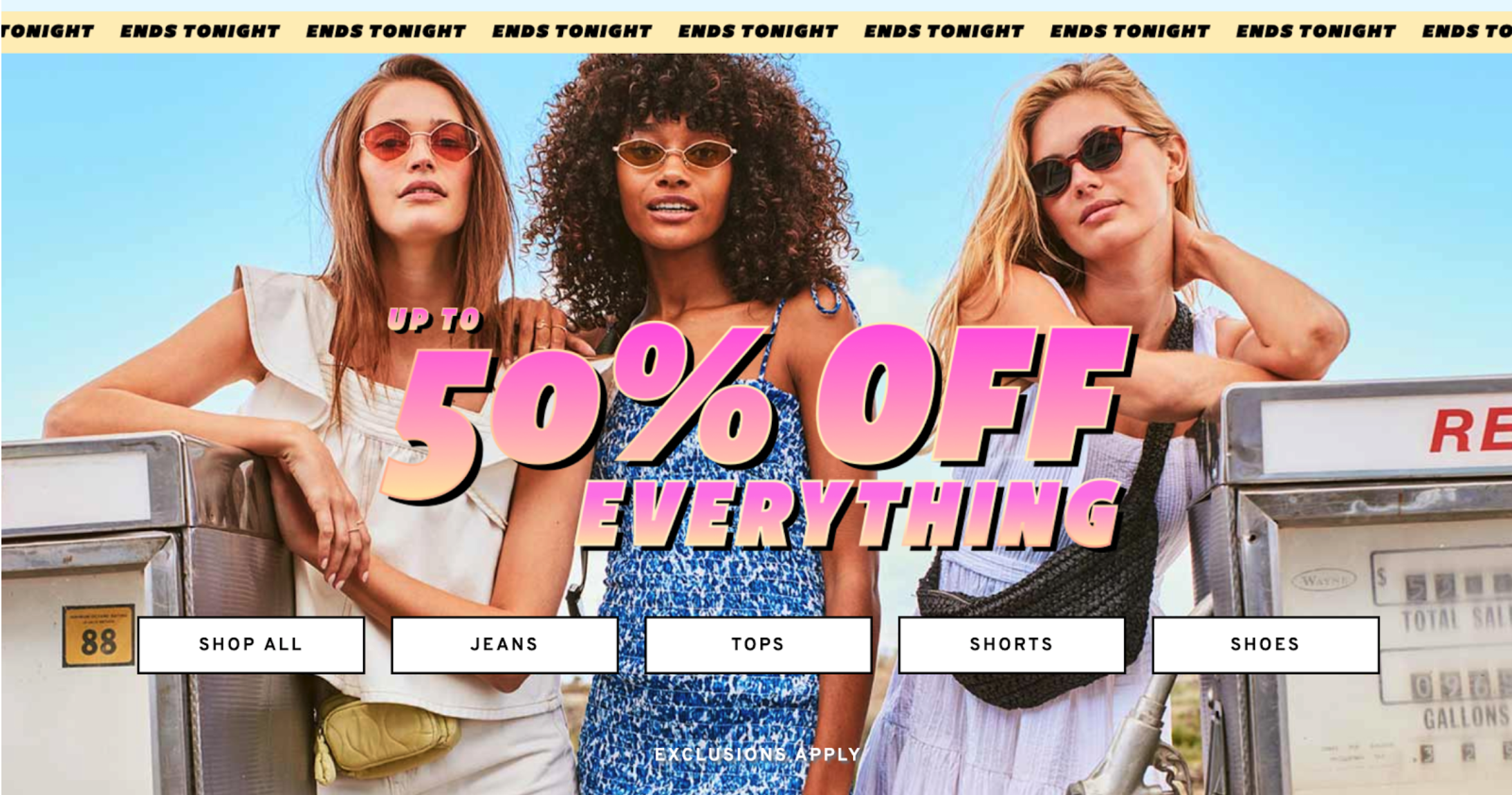 Gamification — unique promo codes add a new dimension to shopping: fun. They can engage prospects that are on the verge of converting. Some examples include:

Customers collect items attached to promo codes.

Shoppers find QR codes or hyperlinks to unique single-use codes on your site.

You can utilise outreach strategies, getting customers involved in sending codes their friends can use, encouraging more conversions.
Promo code gamification is limited only by your imagination. Especially with a promotion engine, which has its own analytics suite to help you track which techniques resonate most with your audience.
4. Make it personal
We've already touched on personalised promo codes, but the stats demonstrate just how much consumers want personalisation — when treated like a number rather than a person, 50% of customers are likely to switch from a company. In fact, consumers are 210% more likely to call personalised content "important" rather than having no opinion. This has a big impact on their likelihood to convert.
In order to effectively utilise personalisation, you need data and the ability to execute on that information. That means automation tools for analysis and operations so that you can offer customers suitable content and promotions. This customisation is scientifically proven to encourage customers to purchase from an ecommerce store more than otherwise — in fact, 91% of consumers said they are more likely to shop with businesses that offer them specific and relevant offers.
Personalise successfully:
Provide pathways on your site for different customers to take — direct them to specific collections or groups of products that relate to one another.
Pro example: an online book shop could recommend "books you might like" or "by the same author".
Use collected data to personalise promotions — if a specific customer has abandoned their cart, this is when you can offer them a related auto-generated single-use code to encourage them to finish converting. Alternatively, send these customers a free shipping code. Remember, extra costs like delivery prices are the top reason (61%) shoppers abandon their transaction.

Take advantage of advanced promotional code software — Personalisation only works if your data is found and studied in real-time. Promotion engines can come with analytics reporting functions that make this possible, meaning with single-use, unique codes, you can A/B test to see what happens work, and repeat the ones that work well.
Continuously increase conversions
There's huge value in investing in these tactics to improve conversion rates in a way that's tailored to your online business. By 2040, it's estimated that around 95% of all purchases are expected to be made via ecommerce. Needless to say, it's essential that brands understand how to optimise conversion rates before then — and that your business continuously measures the success of your strategies to improve conversions and adjusts accordingly.
The top 10% best performing websites showcase 11.45% conversion rates, and have achieved this by following and getting creative with the four steps we've covered. Implement these techniques along with the support of an advanced promotion engine to consistently offer customers reasons to convert.