Today's social climate continues to redefine how companies and personal brands market to their audiences. Brand must deliver personal experiences that engage audiences on a deeper level. This is especially important for retailers.
As it stands, 94% of marketers agree that personalisation is critical to success. 34% of consumers would promote their favorite brands, products and services online with content that directly addressed their interests. Personalised content that directly targets these needs not only delivers a robust customer experience, but supports stronger customer loyalty while saving them time and money.
For instance, brands that add personalised emails or video to their marketing efforts have seen an increase in sales by an average of 19% across the board, proving that personalisation in marketing helps reach specific audiences, creates more effective campaigns with specific content and creates a sense of identity. It's no secret — when brands get personal, they get results. In fact, email personalisation helps boost open and click-through rates.
Looking for some inspiration? Let's take a look at 6 personalised marketing examples that got it right.
1. Amazon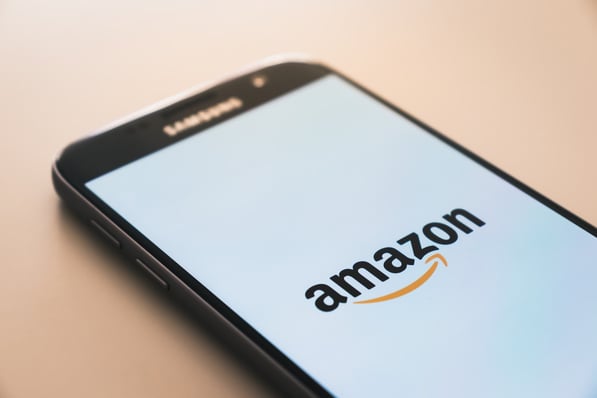 Amazon is well, Amazon. They have cracked the code in their content marketing by consistently delivering a real time customer experience through impulse-buying tactics. Their algorithm looks at customer data, suggesting items that fit almost every aspect of a customer's personality.
By doing this, they had a 29% increase in sales to the tune of $12.83 billion in the second fiscal quarter. The previous year? It was $9.9 billion.
The takeaway: Personalisation engages audiences, building trust, loyalty and improved sales.

What you can do: Use software that can extract this type of information, creating a relationship where customers will rely on your brand's suggestions.
2. Cadbury's
Who doesn't love the tasty chocolate of Cadbury's? By creating a personalised video, they connected with customers based on personal taste. This campaign ran throughout Australia using personal information from users based on their Facebook profile, age, interest and location. Once the user agreed to connect, a video was generated using their own content and photos to provide the perfect Dairy Milk flavour just for them. A huge hit, they obtained a 65% click-through rate and 33.6% conversion rate, proving how powerful personalisation really is.
The takeaway: Consumers love items that speak directly to them. Use the data available to you to create stories that stick.
What you can do: Use customer data to create videos that speak to them in some way, or allow them to create their own using your filters.
Check out an example of their campaign — '
Cadbury GLOW | George Young's personalised video
'
3. Nike
Nike is known for their ability to engage and connect with audiences of all ages. They've capitalised on this even more by adding a product personalisation app, NikeID and other personal elements that keep them a cut above the rest.
Using the power of social media and data collection, they have started targeting consumers based on what region they're in. By delivering personal and user-specific advertising tailored for younger audiences where they live the most, they were able to create a deeper relationship with a new age group with increased influence and buying power.
The takeaway: Data-driven campaigns help reach wider audiences to create personalised experiences that work. Focusing on meeting target demographics where they engage most is key.

What you can do: Use the power of social media to leverage deeper connections with audiences, creating campaigns that speak to them.

4. Coca-Cola
Even if you don't drink Coke, there's no way you could have missed the "Share a Coke" campaign. Designed to reach the millennial audience, this took personalisation to the next level by using first names on the bottles and cans.
To date, over 800 first names have been used. Harnessing this engagement, Coca-Cola has plans to add surnames and famous vacation destinations, tied to a contest where they could win a trip to those locations.
Has this been successful? Absolutely. Who doesn't want to feel acknowledged? This campaign is inclusive, yet personal, creating new levels of influence around the world.
The takeaway: Create campaigns that resound with consumers on all levels by being inclusive and aware through effective personalisation.

What you can do: Use customer data to create immersive campaigns that are not location or demographic-specific to promote inclusiveness and belonging.
How We Pulled Off Share a Coke — a look at how The Coca Cola Co. set up their campaign
5. O2
O2 used the information they have to deliver better customer service in their marketing campaign through personalised, niche marketing ads targeted toward mobile audiences where the best offers would show up, along with the store. These ads ended up performing 128% better in terms of click-through rates.
The takeaway: Since mobile devices are usually the communication method of choice, it's best to meet them where they are, use data gathered, and use that to deliver more personalised campaigns.

What you can do: Utilise the power of mobile marketing to deliver incentives and communications that are easily accessible and usable without doing too much.
6. EasyJet
The power of email marketing continues to baffle marketing specialists, but it's still the best way to connect and engage audiences. To commemorate its 20th anniversary, Easy Jet created a data-driven campaign through personalised emails that highlighted the customer's travel history over the years. Using customer data, they built individual stories with destination imagery and copy for a personalised experience.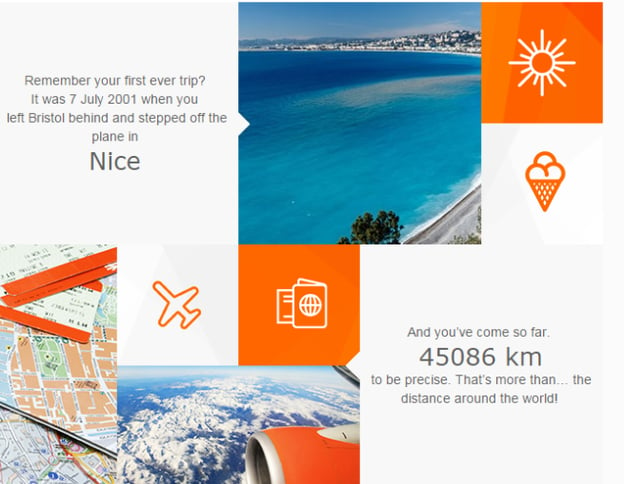 EasyJet sent over 12,000,000 unique emails to their audience, resulting in an open rate of over 100% higher than the average newsletter. They also received 25% higher click-through rates, creating a customer experience that will not only continue to build customer loyalty, but deliver more meaningful connections.
The takeaway: Address the customer's needs through the use of data that reinforces storytelling on a more personal level to increase brand loyalty.

What you can do: Use email marketing to reach target audiences while deepening connections on a more personal level. People read emails. Use that power to tell in-depth stories that make the difference.
Utilise personalisation in the right ways
So what does this mean? It means using a SaaS provider to create a promotions engine, or single-use promo code generator can engage audiences on another level while gathering information to create additional personalised promotions.
This software helps create engaging campaigns that deliver anticipated outcomes while resolving the pain points of having to use traditional, multi-use vouchers that reduce in value over time. A software of this type also makes it easier to partner with affiliates, influencers and third-party coupon site, broadening the audience while retaining control over codes to collect consumer data.
The ultimate goal is to use personalisation to be creative, engage audiences and get the information needed to keep them coming back for more. Uniqodo can handle these needs and so much more — we think our promo engine can work great with your personalised campaigns