Prior to COVID-19, travel industry market indicators were positive with a forecasted revenue of around $712 billion. This increase in the number of tourists and business travellers is thanks to an emerging middle class in developing countries, new travel destinations and new forms of transportation. However, the current climate has massively changed, resulting in a restated 2020 forecast at $447.4 billion, which is a decrease of 34.7% from 2019.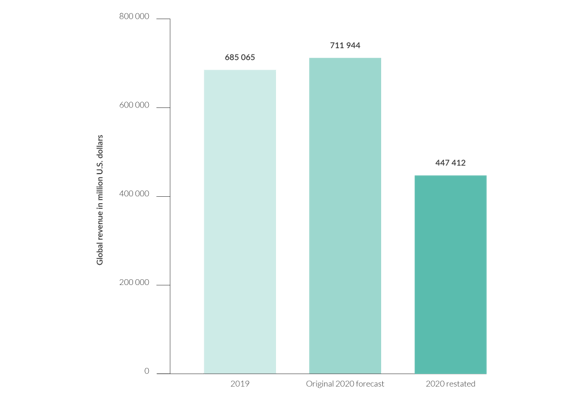 These are serious times, but there's hope. Leaning into emerging trends is the top way that brands have survived crises in the past. Future growth relies on your being able to put yourself in a position to flexibly and rapidly respond to personal demand and trends when they return. Being able to capture these markets over the longer-term will make all the difference. The specifics will, of course, be different for each type of travel brand, but the key basics stay the same.
Step 1: Manage the current crisis well
In order to survive in the future, you first need to manage the present. This means focusing on your customers, your business costs and your marketing.
Refund customers to retain customer loyalty
Customers that have cancelled travel plans will be understandably disappointed. You need to be transparent with them and ensure you look after them in order to retain these customers in the future. The first wave of cancellations has already occurred. But you need to be ready for more cancellations if lockdowns persist through the summer.
Cash refunds may be required for customers that demand them. However, you can retain revenue and guarantee that you are the first-port-of-call for post-pandemic travel by issuing travel vouchers. The more proactive and transparent you are with this strategy, the easier it will be to gain buy-in.
Marketing tools like unique promo code generators can create a seamless process for you and your customers. If you want more specific advice on how to set up a voucher-based system, check out our blog on preventing revenue loss through cancellations.
Keep on as much staff as possible and reduce costs
The global travel and tourism market is predicted to see a loss of 75.2 million jobs globally in 2020. It's not an easy feat, but securing the jobs of as many staff members as possible is high up on the priority list. This will secure your ability to jump back into action when things begin to shift. A key way to keep your doors open is to balance your employment capabilities with the reduction of costs.
Maintain an online presence
Being active online is crucial for staying in contact with your customers and, in turn, retaining customer loyalty. Staying present online with the halt on travel sales may seem unnecessary at the moment, but the opposite is true. Don't be tempted to pull back because now is the exact time you need to be engaging with your present and future customers.
Top tips for getting creative online:
— Share virtual vacation ideas using video and virtual reality. You can even create walking tours using Google Maps.
— Provide customers with plans and inspiration for future adventures.
—Supply constant updates on any information you have about the present and future, using transparency as the focus.
Step 2: Double down on personalised purchases
Online channels are infinitely personalisable and infinitely important as a result. Having the ability to have your customers purchase online is crucial, as we learnt in the rebound of travel brands after the financial crisis of 2008. Being online will be equally as important in this climate. But the real key to being online currently is to personalise your customers' online journeys and to tailor your messaging.
A huge 91% of customers are more likely to shop with brands who provide relevant offers and recommendations and, on average, 71% of consumers feel frustrated when their shopping experience is impersonal. Personalised marketing translates into success for businesses as it lifts revenues by 5-15%. We strongly believe that personalisation will be the leap that will rebound the travel industry. That's clearer than ever with travel and hospitality showing the largest recent shift towards personalised email.
Ensure predicted future growth by tailoring online journeys
Personalisation is complemented by almost every factor that predicts the travel industry's future growth. New travellers from new countries will want different options and different solutions. New travel destinations, methods of travel and places to stay all require more choice — accentuating the value of remembering the priorities of given individuals and providing them customised promotions and website experiences.
We have written a full rundown of different digital marketing tools for travel brands, but if you want a few ideas, consider:
— Website personalisation software able to learn about the interests of shoppers.
— Programmatic ads that target individual buyers and customer profiles.
— Unique promotion code generators that allow you to create unique promotions based on the information you collect.
Step 3: Leverage social media and influencers
With 43% of internet users researching products on social media, it's undeniable that social platforms have a huge effect on sales across all industries. Although based on pre-pandemic trends, social media ad spending was forecast to increase by 20% to $43 billion in 2020. Realistically, these numbers could now be underestimated with online channels of communication becoming central to all brands.
For travel brands, social media has a unique relationship that manifests in two specific ways:
People use social media to find out about new places to travel.

People are motivated to travel by a desire to post about it on social media.
Each of these avenues presents interesting opportunities for travel brands to connect with existing customers and find new ones. People are already posting online about their travel experiences, so tapping into that in a more concerted way holds a lot of potential for travel brands in the future. Consider the following:

— Sponsor influencers: 40% of millennials say that their favourite YouTube creators understand them better than their own friends. Getting influencers to mention your brand in relation to their latest travel excursion (once travel has started again) is a great way to influence the choices that their followers will make when booking trips.

— Create your own influencers: 74% of consumers identify 'word-of-mouth' as influential on their buying behaviour. By incentivising your existing customers to talk about their experiences with your brand online, you can generate awareness and grow.

How to use social media to your advantage
The first thing to note about social media is being active online. You need to be on various channels and be proactive in making posts and responding to people. Next, you should develop a structured affiliate marketing strategy.
The basics of affiliate marketing come down to creating incentives and an attribution model. Standard promotional and loyalty marketing techniques come in very handy here. Using a promo code engine, you can generate unique codes that sponsored influencers can distribute, allowing you to track the success of that campaign. The same tool can be used to provide promotions to customers who share positive stories about you online. The rest of your strategy really comes down to messaging and personalisation.
Step 4: Prioritise flexibility and opportunities
Flexibility during this time is a priority. COVID-19 isn't going to recede all at once, which means that there will be different phases. Being adaptable and finding secure ways to deliver customer demand at each phase is key. The first stage of that is identifying opportunity and looking to serve the markets that come out of lockdown first.
You should focus on how to best serve future customers today. In addition to keeping your doors open to rebound when the time is right, looking to re-align with market trends and plan for the future is your best course of action right now.
Re-align in order to regrow
Disruptions are always a great time to re-align with trends and implement ways to spring back into action. Looking at new marketing technologies, personalisation of online messaging, the ability to connect with emerging markets and provide people with compelling offers are all great ways to prepare for the future of travel.
Remember, every one of the major travel calamities of the last two decades (9/11, SARS, the global financial crisis of 2008), saw the industry surge back into business with more customers than ever. It is possible to rebuild your revenue and survive this crisis if you take the opportunity now to act smartly and decisively for the future of your brand.